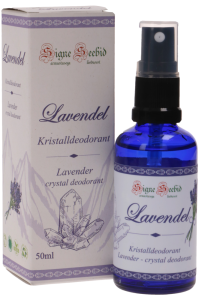 Crystals from the earth give you powerful protection against body odors!
Crystal Deodorant Lavender
---

Ma olen vaimustuses! Nii hea ja efektiivne vahend. Olen kasutanud väga-väga paljusid erinevaid vahendeid, aga ükski neist ei jõua sellele ligilähedale, ka mitte kordades kallimad tooted.

Sometimes the nozzle may clog. Remove the spray and soak it in warm water. Spray water through it. Now put it back to bottle and try it again.

Nii hea toode! Mõnus lõhn ja praegustel kuumadel ilmadel on hoidnud värskust ja peatanud higistamise. Soovitan!