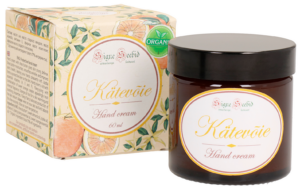 Hand butter with Shea gives strong protection to your skin.
Protective Hand Butter (Organic)
---



Tegemist on väga hea tootega, mis niisutab käte nahka sügavuti. Talvel kõige külmemate ilmadega asendamatu kaaslane, kuid kuna toode niisutab nahka väga hästi, siis ei pea isegi igapäev kasutama.

Mulle väga meeldib lõhn ja, et on klaasist purgis ja konsistents, et kreem pole vedel, vaid pigem tahke. Niisutab käsi ja imendub kiiresti.